BOXING AT ONELIFE FITNESS
Gain the confidence that comes from knowing how to move like a pro. The coaches in our Boxing Studio are elite in their individual crafts, having dedicated their lives to continued training & knowledge in various martial arts, boxing and fitness.

Regardless of age or athletic ability, access many benefits in one of our high-intensity group fitness or technical classes. Learn new skills and proper technique on the bag while building strength, endurance and power. Open to all Skill levels. We welcome beginners and will challenge the most advanced athletes.
GET A BOXING FREE TRIAL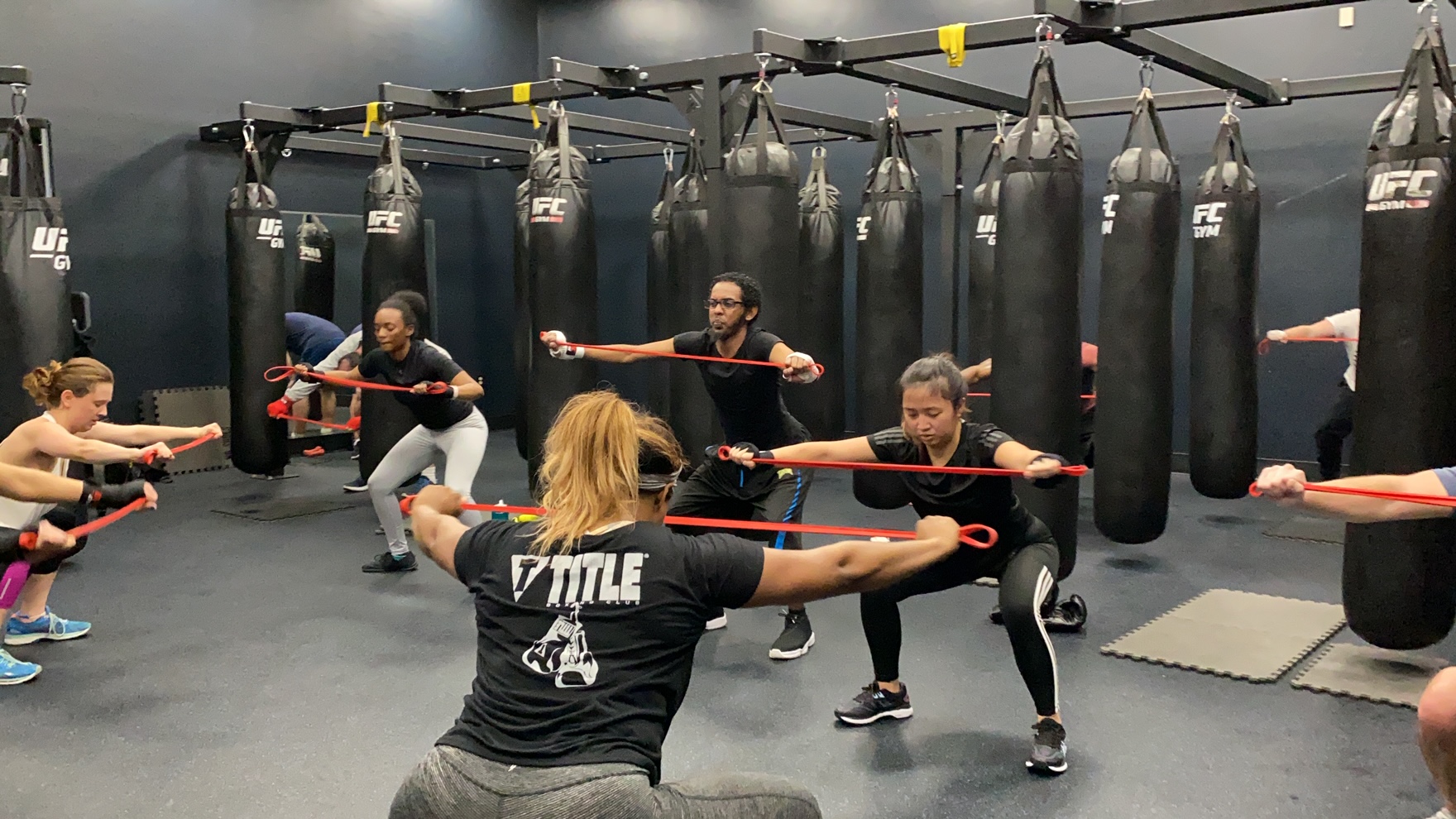 CLASSES OFFERED
Kickboxing Conditioning
Release your inner warrior and lock-in a full body workout. This intense non-contact strength and conditioning class incorporates punches, kicks, knee and elbow strikes.This high-intensity strength and cardio focused workout, is professionally structured with a pro coach that will lead you through alternating speed and power rounds keeping the body guessing. Gain the confidence that comes from knowing how to move like a pro.

Boxing Conditioning
Looking for a rock-solid body? Our Boxing Conditioning classes will have you feeling like a pro as you learn to master basic boxing punches in a high intensity class you're sure to get shredded. Boxing Conditioning combines strength work and cardio conditioning to strike a total body balance. Move through a series of rounds, alternating between speed and power, hitting your core with extra attention. Getting an extra rush from the energy in class, is second to none!

D.U.T. (Daily Ultimate Training)
Expect the unexpected in our signature high-intensity interval training (HIIT) class. Move through timed interval stations designed to consistently shock your body and deliver the results you want. Each Daily Ultimate Training class is unique with circuits devised to improve your technique, strength and endurance. With every class you will become a better athlete and more functionally fit. This workout may incorporate battle ropes, jump ropes, TRX suspension training, plyo boxes, kettlebells, medicine balls, free weights, and more.

Boxing Skills & Tech
Turn it up a notch by taking your training to the next level! Learn offense, defense and add more advanced combinations to your library of skills. Gain confidence from improved body awareness and control. Don't be nervous, our level 1 class is beginner friendly. It involves partner work, but does not include sparring.

Brazilian Jiu-Jitsu (Gi & No Gi)
Tap into undiscovered strength in our Brazilian jiu-jitsu class. Learn to leverage personal strength to defeat any opponent, regardless of size. Brazilian jiu-jitsu teaches specific grappling techniques. It's also an intense full-body and full-contact workout. Learn beneficial self-defense maneuvers while discovering a new way to improve fitness.

Muay Thai
Often referred to as "kickboxing" or "Thai boxing" Muay Thai is known as, "the art of eight limbs." This refers to the eight points of contact used including the fists, elbows, knees, and shins. Our level 1 Muay Thai class includes Muay Thai leg kicks, knees, elbows and clinch work.
GET A FREE TRIAL