Today's #MotivationalMonday, provided by the Hardeman Family.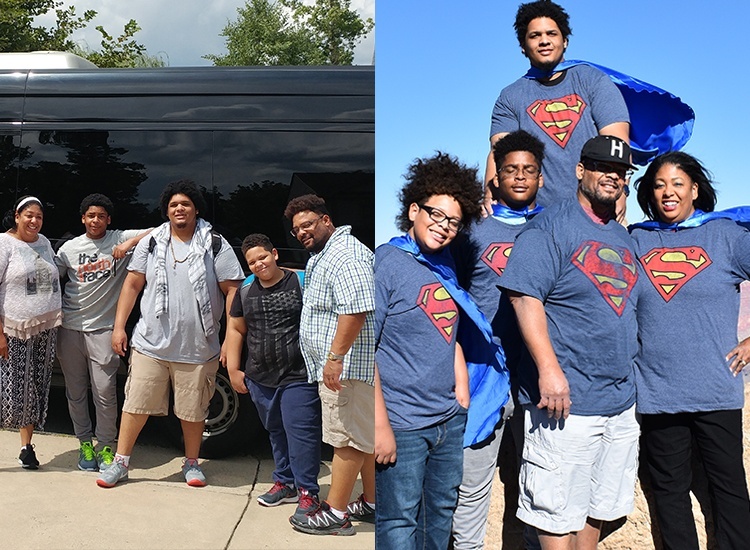 In December 2016, the Hardeman family joined Onelife Fitness with an incredible goal, to lose weight as a family and restore their health. Over the next 12 months, Sandra (Mom), Steven (Dad) and their sons, Steven Jr., Sterling and Seth — would lose over 300 pounds!
They were interviewed by Cat Deeley for the Lifetime television show This Time Next Year, who followed their journey through the year and aired their story on Tuesday, January 23.
When they first started Steven Jr.'s weight was near 400 pounds, Steven Sr. a retired law enforcement officer was on blood pressure medicine and Sandra, a school administrator was taking nightly insulin shots for diabetes. The family enabled each other with bad eating habits but decided they wanted to work together to lose the weight. "We chose Onelife because we wanted to work out as a family, and other gyms just didn't offer a family atmosphere that supported our goals", said Steven. Until joining as a family, everyone was working out at other gyms with no results, so when they made the switch to Onelife, they kicked up their workouts by incorporating personal trainers.
The group worked out as a family with a daily cardio conditioning program, consisting of walking on the treadmills, biking, rowing and the ellipticals. Working with the trainers at Onelife helped the family reach their goals while keeping the workouts on an individual level, catering to their own abilities. Sandra recalled her first training session, "I thought the warm up was the workout, but over the course of the year an hour session did not seem like enough, I began to see the mental and physical changes."
As the four progressed, their trainers added strength training with functional exercises that helped them build muscle, increase stability and reduce chances of injury. With all of their hard work, the weight started to fall off - steadily.
Knowing that making major changes to your diet can prove to the hardest part of the challenge, the Hardemans began their healthy eating journey by first incorporating a delivered meal plan to their home. As they began to settle into their new routine, the Hardemans would make trips to the local organic market, eating lots of vegetables, while cutting back on fat and sugar. They learned the value in eating smaller portions, instead of over-indulging.
Boy, did their hard work pay off! Sandra said with the help of their trainers, "We even completed the super run 5K as a family. We have Onelife, and now it's part of our life's effort to be better every day!"
What's their advice to someone just getting started – "Decide today that you want to make a change. Have a support system, and don't hesitate to go outside of your comfort zone. I NEVER would have imagined I would be using a trainer. I was self-conscious, and afraid. There are still obstacles I have to overcome, but just take it step by step and you can do it!"
For more on the Hardeman's story, head over to Lifetime. If you have an inspiring story and would like to share it with us, tag us in your post on Instagram at #IHaveOnelife.