Being a busy Mom of five can't stop this amazing woman from living her best life!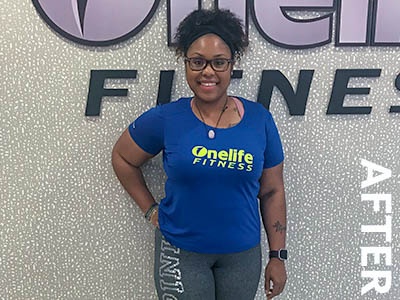 Ashleigh has been on her health and fitness journey for two years and counting. A Mom of five and a total inspiration, Ashleigh is the epitome of a motivation story. After taking a hard look at her place in life, Ashleigh knew she wanted to make a big change and improve herself. Her initial inspiration for beginning her journey was her children, however, she found that she needed something more. She had to do this for HERSELF.

That's when Ashleigh joined Onelife Fitness Reston. "The first time I walked through the doors, I was so nervous. I can remember walking around with my head down for most of the tour, and I didn't make much eye contact with anyone." It all changed for her when Branden, her trainer, came into her life. "We have been through a lot over these last couple of years. He has seen me at my highs as well as my lows. When we first met, I was very depressed. But he is one of the people that helped pull me out of the dark place I was in. I thank my lucky stars every day for giving me the courage to walk through those doors. Onelife Reston isn't just a gym—it's a community and family, and I'm so grateful to be able to say I'm a part of it."
Ashleigh works out four to six days a week. Her fitness regimen includes upper and lower body, focusing on conditioning. When she isn't working on her body, she's doing meditation or yoga to make sure her mind is right. For Ashleigh, being mentally strong is just as important as being physically strong. When it comes to her nutrition, Ashleigh began the paleo diet. Since changing what she puts into her body, she has noticed her body fat percentage is dropping, she has more energy than ever before and she even feels less bloated!

"Before I started my journey I was completely depressed. Life was passing by and I was walking around the world just existing rather than fully living. Now I feel like a totally different person. I walk with my head held high. I am more open to trying new things, and my confidence level has skyrocketed."
*Note: Story from the Washingtonian, courtesy of our Onelife Fitness Reston Team.
Want to share your fitness journey with us like Ashleigh? Post your story on Instagram and tag us using #IHaveOnelife for a chance to be featured on our digital marketing.