Bring on the fiesta!!!
In this vegetarian taco recipe, cauliflower is tossed with a smoky-tangy sauce made with honey, lime juice and chipotles in adobo sauce before being roasted.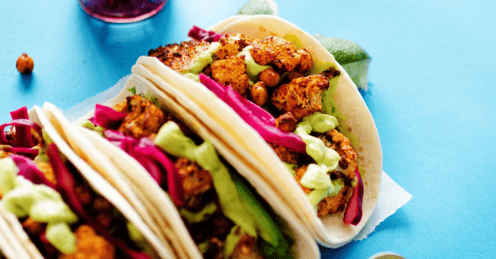 Ingredients
¼ cup lime juice (from about 2 limes)
2 tablespoons chopped chipotles in adobo sauce (see Tips)
1 tablespoon honey
2 cloves garlic
½ teaspoon salt
1 small head cauliflower (see Tips), cut into bite-size pieces
1 small red onion, halved and thinly sliced
1(15 ounce) can refried black beans, warmed
8corn tortillas, warmed
1/2 cup crumbled queso fresco or feta cheese
Sliced red cabbage, fresh cilantro, guacamole, jalapeño slices and/or lime wedges for serving
Directions
Step 1
Preheat oven to 450 degrees F. Line a large rimmed baking sheet with foil.

Step 2
Combine lime juice, chipotles to taste, honey, garlic and salt in a blender. Process until mostly smooth. Place cauliflower in a large bowl, add the sauce and stir to coat. Transfer to the prepared baking sheet. Sprinkle onion on top.

Step 3
Roast, stirring once, until the cauliflower is tender and browned in spots, 18 to 20 minutes.

Step 4
Serve the vegetables and beans in tortillas, topped with cheese and garnished with cabbage, cilantro, guacamole, jalapeños and/or lime wedges.
Tips
Tips: Look for small cans of smoked chipotle peppers in adobo sauce near other Mexican ingredients in well-stocked supermarkets. Once opened, refrigerate for up to 2 weeks or freeze for up to 6 months.
To prep cauliflower: Remove any outer leaves. Cut off the stem. Turn head upside down and, holding the knife at a 45-degree angle, slice around the stem to remove the core from center of head. Cut the head into large florets. Then, cut or slice florets to desired sizes.
Nutrition Facts
Serving Size: 2 Tacos Each
Per Serving:
288 calories; 6.5 g total fat; 2.3 g saturated fat; 11 mg cholesterol; 613 mg sodium. 662 mg potassium; 47.9 g carbohydrates; 10.6 g fiber; 7 g sugar; 12 g protein; 132 IU vitamin a iu; 38 mg vitamin c; 46 mcg folate; 186 mg calcium; 3 mg iron; 93 mg magnesium; 4 g added sugar;
Exchanges:
2 Starch, 1/2 Other Carbohydrate, 1 Vegetable, 1/2 Lean Meat, 1/2 High-Fat Meat