Healthier tweaks to your favorite family recipes are really what makes eating healthier and sustainable weight loss possible.
It keeps you grounded, feeling good, comforted, happy like you're fully you and not missing out on a thing. And that's how eating healthy should be-easy, natural, and familiar.
And now of course, time for the recipe!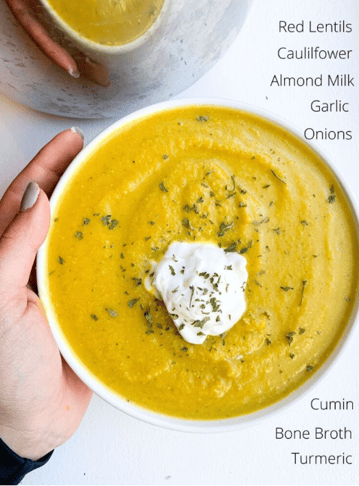 Creamy Cauliflower and Lentil Soup
This veggie filled twist on the Mediterranean classic Lentil Soup will get you through the winter while loving your bites and sticking to your health goals!
prep time: 25 minutes cook time: 25 minutes total time: 50 minutes servings: 10
Ingredients:
½ large onion

3 cloves (or teaspoons) garlic

1 ½ cup red lentils

5 cups bone broth (or broth of choice)

2 cups almond milk (milk or water would work here)

1 large head of cauliflower chopped (about 4 cups)

2 cups chopped celery

2-3 tsp cumin (or to taste)

1 tsp turmeric

Salt and Pepper to taste

1 tbsp olive oil

Optional Toppings: Greek Yogurt, Parsley, Lemon
Instructions:
In a large pot heat olive oil and saute chopped onions until soft and translucent. Add garlic, celery, cauliflower, lentils, and spices. Stir and make sure everything is evenly coated.

Add bone broth, almond milk or water and mix well making sure lentils aren't sticking to the bottom of the pot.

Bring to a rolling boil then reduce heat to low and let simmer for 20 minutes or until lentils are cooked through and cauliflower is soft.

Using an immersion blender, pulse soup until you've reached desired consistency and creaminess. You can also transfer the soup to a large blender and blend until creamy and smooth.

Top individual bowls with desired amount of greek yogurt, parsley, and/or lemon.
Have a great holiday and remember, life is all about balance; there's not a day that goes by that I don't eat something sweet ;).


For more, follow @Practical.Nutritionist on Instagram!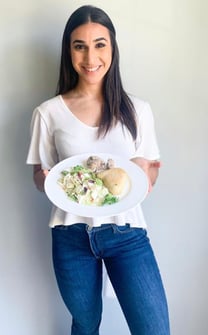 Leena Abed
Certified Nutritionist, Fitness Enthusiast, Onelife Fitness Ambassador