Our coastal roots have made us life long lovers of all things from the sea and at the top of that list is mouth watering mackerel. When grilled, this salt water fish is tender, slightly smokey and packed with nutrients which makes it a light dish that's perfect for a hot summer day. We hope you enjoy this recipe as much as we enjoyed eating it!
Ingredients
200g jersey royals (or other skin-on new potatoes for extra fibre), scrubbed
1 green apple, cut into quarters and finely sliced
8 radishes, finely sliced
½ kohlrabi (or use more radish and apple), finely sliced into matchsticks
Juice ½ lemon
4 sustainable fresh mackerel fillets
1 tbsp avocado oil (or olive oil)
4 tbsp avocado mayonnaise (from health food shops and delis, or use olive oil-based mayo)
2 tbsp chopped parsley
1 tbsp chopped dill, plus extra to scatter
Large handful walnut halves, lightly toasted in a dry pan, then coarsely chopped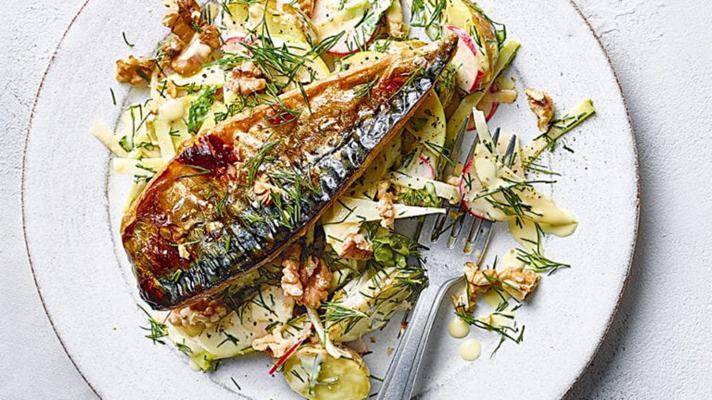 Instructions
Simmer the jersey royals (or other new potatoes) in a pan of cold water for 20-25 minutes or until tender. Drain and set aside.

In a bowl, toss the sliced apple, radishes and kohlrabi in the lemon juice to prevent them from discoloring.

Heat the grill or a ridged griddle pan to medium-high. Brush the mackerel all over with the avocado oil, then grill for 3-4 minutes, skin-side up, under the grill (or skin side down in a griddle pan) until the fish is cooked through and the skin is crisp.

When cool enough to handle, slice any larger potatoes, then combine them all with the apple, radishes and kohlrabi, along with the mayonnaise, chopped herbs, walnuts and cider vinegar. Season with black pepper, then serve with the mackerel, scattered with more dill.



Looking for more healthy eats to add to your meal prep? Follow us on Instagram for weekly recipes!