Nothing says summer like fresh vegetables and when they're baked with panko bread crumbs and topped with parmesan you can be sure the entire family will enjoy them!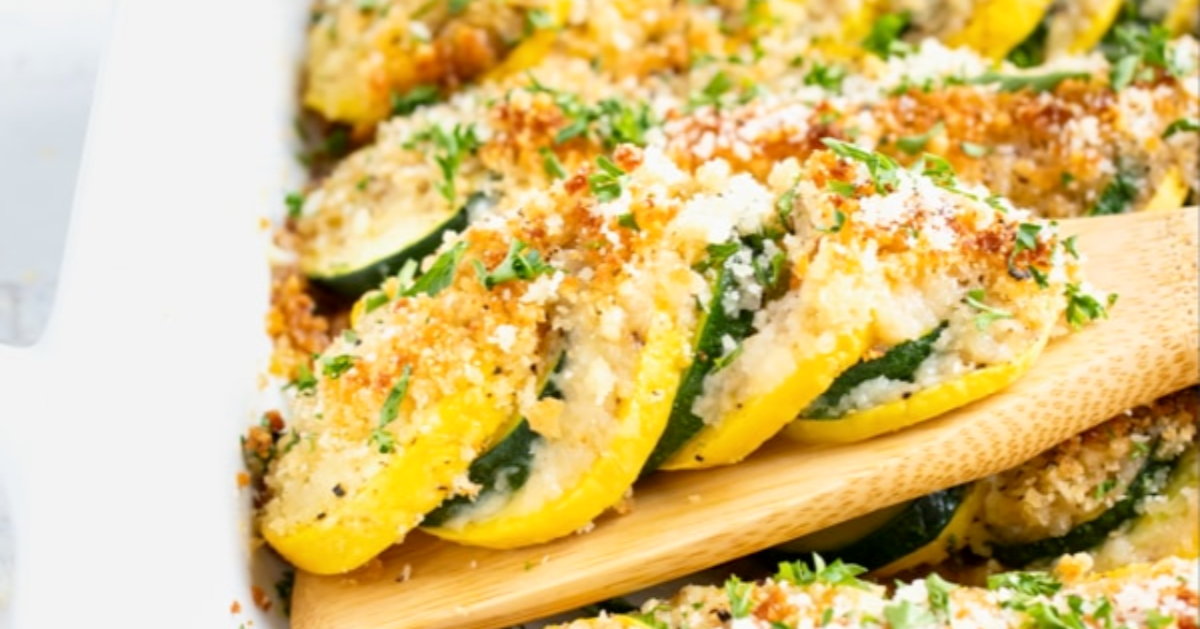 Zucchini and Yellow Summer Squash – Feel free to use all yellow squash or all zucchini if that happens to be what you have. However, I think the alternating colors are what make this squash casserole so unique and pretty!
Olive oil – You can also use any other type of healthy oil you happen to have on hand that does not have a ton of flavor. Avocado oil, safflower, and sunflower oil will all work equally as well.
Garlic Powder – The secret ingredient that gives this squash casserole a unique flavor!
Salt & Pepper – You can adjust these to your personal taste preferences.
Parmesan cheese – Regular, dairy-filled, Parmesan cheese is my preference, but feel free to use a vegan and dairy-free Parmesan cheese, too.
Panko Breadcrumbs – You can use regular breadcrumbs or gluten-free breadcrumbs. The taste will be minimally affected.
Instructions
Preheat oven to 350 degrees.
Prepare yellow squash and zucchini by cutting into 1/4-inch slices.

You can either do this by carefully using a mandoline or with a sharp knife.
Sprinkle 1/2 teaspoon salt over all of the squash slices and let sit for 10 minutes. Wipe away any excess moisture that forms with a paper towel.
Layer the zucchini squash and yellow squash in a 9-inch square baking dish and sprinkle with remaining salt and pepper.
Whisk together breadcrumbs, Parmesan cheese, and garlic powder. Sprinkle over zucchini and squash.
Cover baking dish with aluminum foil and bake in preheated oven for 30 minutes. Broil for 3-5 minutes or until the topping becomes crispy.