Switch out the sugar laden holiday classic for this healthier version!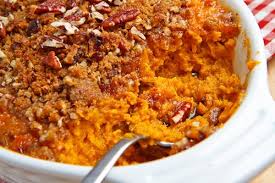 Who doesn't love Sweet Potato Casserole?
No need to reinvent the wheel or insult Great Aunt Edna by butchering her recipe. Try these 3 ingredient swaps from US Fitness Trainer Megan to keep the calories down and the crowd full!
Boil sweet potatoes in water till fork is able to go through and you know they are tender; then mash them up and add just a tablespoon of butter (that's it!) The real trick is the different ingredient alternatives I use that are healthier than the other major ingredients typically used which contain high sugar and fat… these are the three brands i use to still build that great flavor!
1. Instead of using marshmallows….. use elyon marshmallows: https://www.instacart.com/whole-foods/products/24021-elyon-marshmallows-natural-vanilla-7-0-oz instead of jet puffed… these are all natural and fat/gluten free
2. Use Joseph's Sugar Free Syrup: https://www.instacart.com/whole-foods/products/110826-joseph-s-sugar-free-maple-flavor-syrup-12-fl-oz great alternative as opposed to regular maple syrup which is very high in calories and sugar! This is only has 35 calories for a 1/4 cup and 9g of carbs.. Aunt Jemimas maple syrup has 210 calories for a 1/4 cup and 26 grams of sugar…
3. Use roasted pecans as a topping instead! Spread raw pecan halves or pieces on a baking sheet in the oven at 350 degrees for 5-8 minutes. Stir once halfway through. When the pecans are toasted, you will smell them! Roasting nuts brings out a deeper flavor and will add a healthy fat/protein to this dish!