Try this hearty vegan salad recipe that is nutritionally dense and will fill you up! This is a salad worthy of an entire meal!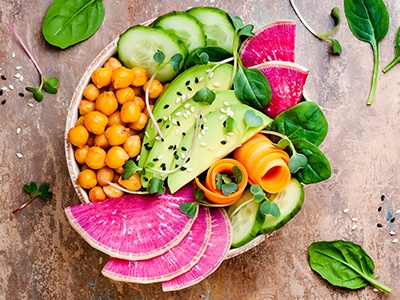 Finding ways to incorporate more vegetables in to your diet can be a challenging task in today's world but we have some tips that can help! Below you will find a scrumptious, mouth-watering, hearty vegan salad recipe that will give you a little bit of fruit and a few servings of veggies all in one meal!
Why is it important to get your veggies in? Well, vegetables are wonderful sources of nutrients such as vitamin A, vitamin C, potassium, fiber, folic acid, and more. These nutrients serve our bodies in so many different ways. Vitamin A and vitamin C help keep your eyes, skin, and teeth healthy. Also, Vitamin C helps your body absorb iron better. Potassium can help you maintain healthy blood pressure and fiber helps you feel full and satisfied, not to mention it keeps you nice and regular too. Diets rich in fiber can also reduce the risk of obesity, type 2 diabetes, and heart disease as well. Overall, eating a diet that is rich in vegetables and fruits can help keep your body running in tip top shape and can help you reduce the risk of heart disease.
Another great thing about big veggie salads is that they are an easy way to lower your calorie intake and fat (keep an eye on the type of dressing you use, it may add unwanted fat, calories, and/or cholesterol).
We hope you enjoy this hearty vegan salad full of healthy vegetables and fruit like tomatoes, avocados, cucumber, radishes, cabbage and more!
This hearty vegan salad recipe serves 1 person.
Ingredients:
● 2 cups of chopped romaine hearts
● 2 cups of baby spinach leaves
● 1 avocado
● 1 serving of kidney beans
● 1 tomato
● ½ of 1 cucumber
● ½ cup of chopped red cabbage
● 5 radishes
● Black and white sesame seeds
● ½ of a watermelon radish
● Herb Garnish
● Pepper for taste
Directions:
The best part about salad is that after you prep your ingredients, you're basically done!
Chop the romaine hearts and mix together in a large bowl with the spinach leaves.
Top your salad with slices of your watermelon radish, tomatoes, cucumbers, cabbage and radishes.
Sprinkle with pepper and seeds as desired.
Garnish with your favorite herbs.
Enjoy!