These easy tips and delicious recipes are going to save you a ton of time and money.
By the time you get home from work, make dinner, eat it, and clean up, it can feel like it's almost time to go to bed — not so fun. Enter meal prepping, a planning method that simplifies cooking and bases it around your schedule, so you're not scrambling through a 16-step recipe when you'd rather have your feet up, dinner done, and Netflix on.
First of all, what is meal prepping?
Meal prepping can describe several different food preparation methods, but basically, it's almost like organizing leftovers for easier breakfast, lunches, or dinners. There's no singular way to do it, but two common types include:
Batch Cooking eg: making big recipes at once and freezing or saving for use later on and individually portioned meals where you divvy up portions into containers ahead of time so you can grab and go.
What are the benefits of meal prepping?
Meal prepping can save you time and money since you're buying and preparing home-cooked food ahead of time. Many people meal prep by shopping and cooking on the weekends, which may work better with your schedule than cramming it in during a weekday. Meal prepping can also make it easier to eat healthier (and lose weight, if that's your goal) since the menu gets set in advance. You're less likely to choose a not-so-great option when you've already have a healthy dinner at home, ready to go. But before you do anything, you're going to want to stock up on reusable, airtight food storage containers that will make your prepared ingredients or meals stay fresh longer and taste better by locking bacteria and odors out.
The Best Meal Prep Containers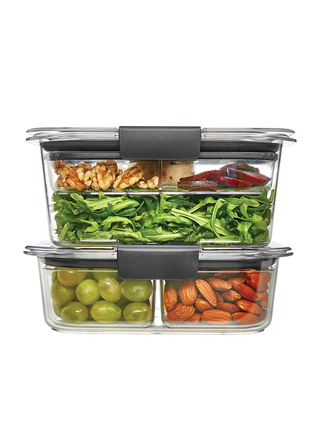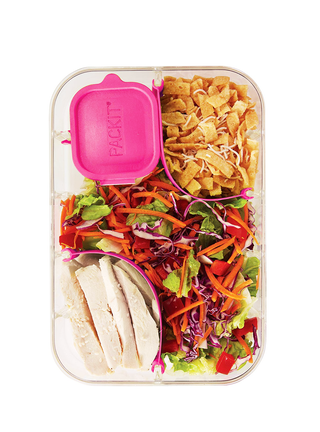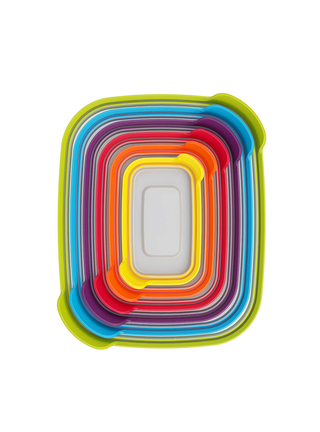 We love these crystal clear containers with removable dividers that allow you to customize your lunch, and the salad box comes with portions you can remove and microwave, and a separate cup for dressing to keep greens fresh. However, one size does not always fit all, and PackIt knows that. Their bento boxes have removable dividers so you can adjust the sections exactly how you'd like.

The foods you prep are going to be based off your dietary needs and fitness goals, but if you're looking for some healthy, quick ways to get started we've compiled three of our favorite healthy recipes for breakfast, lunch, and dinner!
Breakfast
110 Calorie Crustless Veggie Quiche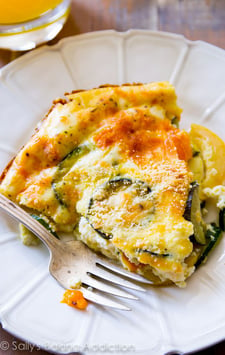 Ingredients
1

and 1/2 cups sliced yellow squash (

2

small or

1

very large)

1

and 1/2 cups sliced zucchini (

2

small or

1

very large)

1

large orange bell pepper, chopped (or any color)

2

cloves roasted garlic, chopped

1 Tablespoon

ground thyme(or fresh chopped)

3

large eggs

3

large egg whites

3/4 cup

milk*

3/4 teaspoon

salt

1/4 teaspoon

freshly ground black pepper

2/3 cup

shredded cheese*

2 Tablespoons

grated parmesan cheese
Directions
Heat a large skillet over medium-high heat. Spray with nonstick spray and add sliced squash and zucchini, chopped pepper, roasted garlic, and thyme. A little pinch of salt and pepper, too. (The rest of the salt and pepper called for in the recipe goes into the egg mixture, so just use a pinch here). Stirring frequently, cook for 6-7 minutes or until veggies are tender. Spoon into a bowl and allow to cool as you prepare the egg mixture.
Preheat oven to 350°F (177°C). Spray a 9-inch pie pan or square pan with nonstick spray. Set aside.
In a large bowl, whisk the eggs, egg whites, milk, salt, and pepper together until thoroughly combined. Arrange veggies into the prepared pan. Top with shredded cheese, then pour the egg mixture on top. Sprinkle with grated parmesan cheese.
Bake for 45 minutes or until filling is set and no longer jiggles. Cool for 10 minutes on a wire rack before slicing and serving. This quiche makes great leftovers! Store tightly covered in the refrigerator for up to 4 days.
Lunch
Chicken Shawarma & Sweet Potato Fries Bowl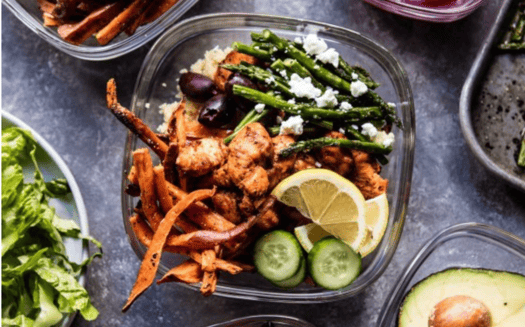 Ingredients
2

pounds

boneless skinless chicken breasts, cut into bite size chunks

1

tablespoon

honey

2

teaspoons

paprika

2

teaspoons

cumin

2

teaspoons

kosher salt and pepper

juice of 2 lemons

4

cloves

garlic, minced or grated

pinch of crushed red pepper flakes

5

tablespoons

olive oil

2

sweet potatoes, cut into matchsticks

1

bunch

asparagus, ends trimmed

4

cups

cooked couscous or quinoa

1/2

cup

pitted kalamata olives and oil packed sun-dried tomatoes, oil drained

crumbled goat cheese, shredded lettuce, avocado, sliced cucumbers, pickled red onions, pine nuts, lemons, mint, and or cilantro, for serving
GARLIC TAHINI YOGURT
1

cup

plain greek yogurt

2

tablespoons

tahini

1-2

cloves

garlic, minced or grated

juice of 1/2 a lemon

1

tablespoon

chopped fresh mint
Instructions
In a large gallon size zip-top bag, combine the chicken, honey, paprika, cumin, salt, pepper, lemon juice, garlic, crushed red pepper flakes, and 2 tablespoons olive oil, toss to combine. Seal and chill for 30 minutes or up to 12 hours.

2. Preheat the oven to 425 degrees F.

3. Place the sweet potatoes on a large baking sheet and toss with 2 tablespoons olive oil, salt and pepper. Transfer to the oven and cook for 15-20 minutes, then flip and bake for 15-20 minutes more.

4. Place the asparagus on a baking sheet and toss with the remaining 1 tablespoon olive oil, kosher salt and pepper. Transfer to the oven and roast for 10-15 minutes.

5. Place the marinated chicken on a large baking sheet and spread in an even layer. Transfer to the oven and roast for 15-20 minutes or until the chicken is cooked through.

6. Divide the couscous among 4-6 storage containers and arrange the chicken, sweet potatoes, asparagus, olives, and sun-dried tomatoes on top. Alternately, you can store the couscous, chicken, and veggies in separate containers and assemble when ready. Food will keep in the fridge for up to 1 week.

7. Before serving, warm each bowl if desired and top with garlic yogurt (see below) and your desired toppings.
GARLIC TAHINI YOGURT
Combine all ingredients in a small bowl. Taste and adjust seasonings to your liking. Keep stored in the fridge for up to 1 week.
Dinner
30 Minute Chili Maple Lim Salmon Bowls
Ingredients
2

(6 oz) wild salmon filets

1

tablespoon

pure maple syrup

1

small lime, juiced

1

teaspoon

chili powder

3

cloves

garlic, minced

1

teaspoon

virgin coconut oil

1/2

cup

uncooked black rice (also known as forbidden rice)

1/2

mango, diced

1/2

cup

cooked shelled edamame

1/8

teaspoon

salt

To garnish: Cilantro and green onion

Optional: Avocado slices
Directions
First cook the rice: Add 1 cup of water with 1/2 cup of forbidden rice to a small pot and place over high heat. Bring to a boil, the reduce heat to low, cover and cook for 25 minutes. Once rice is done stir in mango, coconut oil, edamame and salt.

While the rice cooks, preheat oven to 400 degrees F. Line a large baking sheet with parchment paper to prevent the glaze from burning. Place salmon filets 2 inches apart on parchment paper, skinside down.

In a small bowl, whisk together maple syrup, lime juice, chili powder and garlic. Pour or generously brush the glaze over the salmon, reserving 1 tablespoon for glazing once salmon is done. Bake for 15-20 minutes or until salmon is done and flakes with a fork.

Divide mango & rice mixture between two bowls, and add salmon on top. Garnish with green onion and cilantro if desired.
Prepared foods can remain refrigerated for 2–5 days or frozen for 3–4 months, depending on the ingredients. To play it safe and avoid foodborne illness, keep food out of the "danger zone" — temperatures between 40° F and 140° F. Sealing food in airtight packaging or storage containers will not only keep bacteria out, but also protect the flavor and lock moisture in.
And there you have it, you've now learned how to meal prep like a boss and have some tasty meals to get you started!