What better way to start the summer than a delicious and nutritious grilled pizza! The shaved zucchini and prosciutto provide a beautiful velvety texture that pairs perfectly with the subtle smokiness of the dough from being cooked over the grill.
Ingredients
1 1/4 lb. pizza dough
4 tbsp. olive oil or more if you desire
1/2 c. marinara sauce
3/4 c. shaved pecorino cheese
2 medium zucchini, trimmed
1 jalapeño chile, thinly sliced
1/4 c. packed fresh mint leaves, torn
2 tbsp. fresh lemon juice
2 oz. thinly sliced prosciutto, torn into strips
This ingredient shopping module is created and maintained by a third party, and imported onto this page. You may be able to find more information about this and similar content on their web site.
Directions
1- Remove pizza dough from the refrigerator at least 30 minutes before cooking. Heat grill on medium. Lightly brush clean grill grates with oil.
2- With floured hands or rolling pin, on lg. sheet lightly floured parchment paper, stretch and roll pizza dough into 13-inch round. Generously brush top of pizza with 2 tablespoons olive oil.
3- Using parchment, place dough, oiled side down, onto grill. Remove parchment; cook for 2 minutes or until the bottom is crisp and charred. Flip dough and top with sauce and 1/2 cup cheese; cover and cook 1 minute, until dough is lightly charred on bottom.
4- With a vegetable peeler, cut zucchini into long, thin slices. In a medium bowl, toss zucchini, jalapeño, mint, lemon juice, remaining 2 tablespoons olive oil, 1/2 teaspoon salt and 1/4 teaspoon freshly ground pepper.
5- Top pizza with zucchini salad, prosciutto and remaining 1/4 cup cheese.
6- WOWZA! Pair with your favorite beverage and EAT!
Nutritional information (per serving): Approximately 400 cals, 13 g protein, 45 g carbs, 18 g fat (5 g sat), 3 g fiber, 1,132 mg sodium.
Yields: 6 servings/ Prep. Time: 15 ish mins/ Total Time: 30 ish mins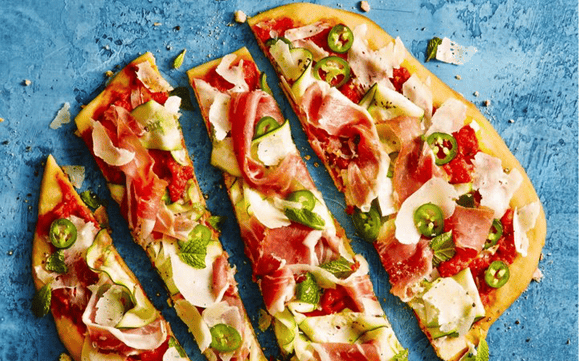 And there you have it, the perfect grilled pizza. Share with friends, family, and fitness enthusiasts alike and you'll win the hearts (and tummies) of everyone this summer!