Line 6 slots of a standard 12 slot muffin tin with cupcake liners. Set aside.

Melt butter in bowl

Stir in graham cracker.

Fill each slot with a heaping tablespoon.

Press down with the bottom of the tablespoon so an even crust forms.

Freeze for 30 minutes
While crust freezes, place ice cream at room temperature to soften.
After 30 minutes top each crust with 1/4 cup of ice cream.
Place in freezer until firm for 1-3 hours
Top with whipped cream, sprinkles and serve!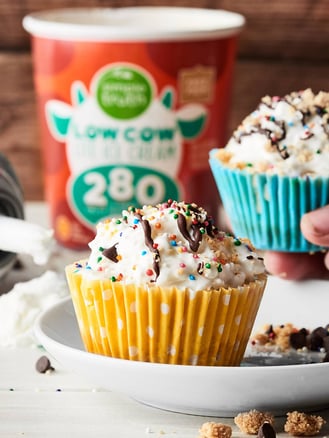 We love these skinny ice cream cup cakes not just for their taste, but also because they provide the perfect portion size that allows you to enjoy your treat without derailing your fitness goals. If you try this recipe, tag us in your photos on Facebook or Instagram and we'll repost your yummy pics!