These Sweet Potato Blondies are so good, so easy, and the ingredients are so familiar.
That's what I need from a recipe: familiarity, ease, and it better taste pretty darn good.
These hit all the points I needed them to and more! My sister described the flavor as that of a "really good pancake" (I get her point but the texture is a lot more like a blondie than a pancake lol.) and my brother ate 4 right after I finished taking the photos.
When To Eat These
Lunch Dessert: While I love a good balanced lunch, I also love a good lunch dessert because my sweet tooth is relentless. One of the little guys is so satisfying!
For Breakfast: On the subject of a sweet tooth, I'm a dessert for breakfast kind of girl. Trust me on this: Take a cup of greek yogurt, top it with one of these, a tablespoon of almond butter, and a few crushed pecans for crunch. It's a balanced breakfast that's guaranteed to keep you full until lunch.
As a Snack: You eat lunch at 12pm and dinner isn't until 6pm, chances you'll need a snack by 4pm are likely. Try a sweet potato blondies paired with a snackable veggies or some nuts! Balanced and delicious.
Dessert Dessert: Obviously, the normal time to have dessert would be at dessert lol. Don't panic if you feel like you always want something sweet after dinner - it's normal. A sweet potato blondie is super satisfying and filled with filling qualities and a lot of nutrients. You're allowed to eat dessert and lose weight or simply be healthy, promise.
People always ask me, "What's the point a healthier dessert if it's not lower calorie?"
My answer: When it comes to weight loss, calories matter to some extent. When it comes to health, quality matters. When it comes to sustaining this lifestyle over the REST of your life, satisfaction matters.
So, you can cut out sweets because of the calories, be unsatisfied, and never keep the weight off.
You can eat the regular stuff all the time, ignore quality, only focus on calories, and not optimize your health.
Or you can find yourself in the practical middle, focus on quality of ingredients most of the time, balance sweets into your meals to be in line with your calorie in take, and still enjoy every bite of food you take.
All of this to say, I think it's important to know the benefits and the "Why" behind your food choices. So let's dive in:
Benefits of Sweet Potatoes:
Rich in Vitamins, Minerals, and Antioxidants: Making sure you're properly nourished means you can optimize your hormones, metabolism, and brain function which all have an impact on the way you burn fat and cravings.
The antioxidants protect against free radicals that trigger inflammation. So more antioxidants, less free radicals, less inflammation.
High in Fiber & GREAT for the Gut: Sweet potatoes have soluble and insoluble fiber. Soluble fiber helps to soften your stool and insoluble fiber adds bulk helping to increase fullness.
Rich in Beta-Carotene: Beta-carotene is converted to vitamin A and helps support good vision and your immune system
They're sweet and delicious yet don't raise your blood sugar the same way white sugar does. Win!
One Bowl Sweet Potato Blondies
Gluten free and refined sugar free but you'd never know it! These Sweet Potato Blondies are so easy and will be a hit with the whole family!
prep time: 25 minutes cook time: 20 minutes total time: 45 minutes servings: 8-12
Ingredients:
1 cup mashed Sweet Potato (about 3 small-medium sweet potatoes)
1/2 cup Nut or Seed Butter (I used cashew butter)
1 cup Almond Flour
2 tsp Vanilla
1/3 cup Maple Syrup
2 Eggs
1 tsp Salt
Optional: 2 scoops Collagen Protein
Instructions:
Start by preparing your sweet potatoes. I peeled them with a knife and softened them in the microwave for about 3 minutes. You can boil or bake yours.
Preheat oven to 350 and line an 8x8 baking sheet with parchment paper.
In a mixing bowl, add all ingredients and mix until combined.
Transfer to pan and bake for 22-26 minutes or until toothpick comes out clean.
Slice and serve with a homemade galze, a drizzle of almond butter, or as is!
For more, follow @Practical.Nutritionist on Instagram!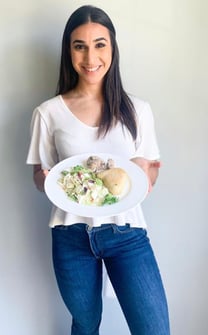 Leena Abed
Certified Nutritionist, Fitness Enthusiast, Sport&Health Ambassador