These Spaghetti Squash Burrito Bowls Are Perfect For Game Night!
Who says you can't eat healthy without a little bit of indulgence? If you're looking to spice up game night with your fit friends while still serving up a dish that's balanced and nutritious you'll love these spaghetti squash burrito bowls!'
Conveniently contained in one-bowl meal(literally the whole thing fits in a halved and quickly cooked spaghetti squash) that's healthy, low-carb and completely delicious. Ideal for customizing with your fave taco or burrito fillings, it's a perfect way to let your friends get creative while leaving you without the need to play the guessing game. So if you're looking to make your next party meal as good as the party, skip the drive to Chipotle and try out this one-bowl wonder — we're already drooling.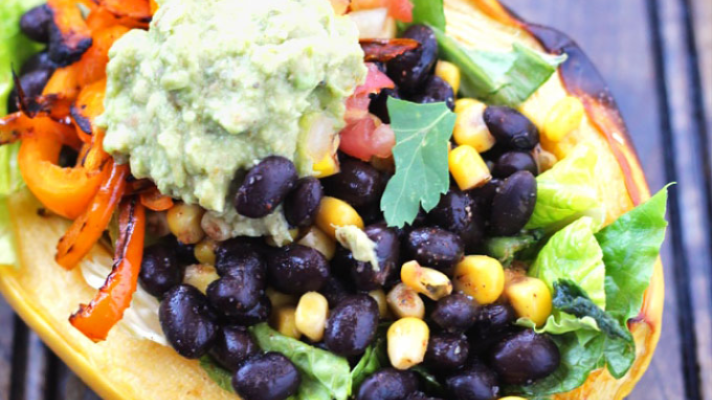 Ingredients:
1 spaghetti squash
A variety of your fave toppings:
grape tomatoes
bell pepper
black beans
spring onion
cilantro
lime
roasted sweet potato (or leftover cooked chicken/ground beef)
salsa and guacamole
Instructions:
1. With a sharp kitchen knife, carefully cut the squash in half lengthwise. Scoop out the seeds from the centre using a spoon, then place both halves face down in a microwave-safe dish. Add about a half inch of water to the dish, then cover with cling film and poke a few holes in the top for steam to escape. Microwave on high for 10-12 minutes until the outer shell and flesh has softened. Remove from the microwave, uncover, flip over the squash halves and allow to cool slightly.
2. While the squash is cooking and cooling, you can prep all of your toppings for the bowls. Chop up veggies, round up some leftovers and grab some guacamole and salsa.
3. When the squash is cool enough to handle, use a fork to fluff the spaghetti strands until you've scraped away most of the flesh from the sides of the outer shell.
4. Fill the squash half with all your toppings, layering the beans, veggies, salsa and guacamole. Then you're ready to dig in!