As we zoom into June, with summer happiness and tropical thoughts in mind, we continue to share our series of tips and inspiration from our Onelife Summertime FitTeam.
Here's how they're staying fit, how they landed in the fitness biz in the first place, why they choose coffee over tea and more!
Meet Shahana, Group Fitness Legend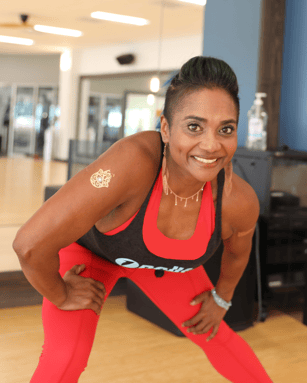 When we say legend, we are not joking, nor are we exaggerating even slightly… Shahana has been a monumental part of our Group Fitness foundation since day one. Her ability to inspire, energize and literally change the mindset of a room is superhero status. Read on to find out how Shahana got hooked on group fitness, which jam fires her up most, and how she appreciates the power of a smile!
Q: Why did you get started in fitness?
One day, I was teaching class, and a member came to me and said that her daughter was diagnosed with leukemia and she said, "I found your classes and that was that one hour a day that I was able to totally forget our pain. For 3 hours a week that was my time away, my drug of choice that got me through it all."
That gave me goose bumps and 7 years later I'm still teaching.
Q: What inspires you on a daily basis?
People's smiles, their feedback, and the community that we've built in class. Even now that we can't see each other, I can still connect with everyone through teaching on our Facebook lives and Onelife Anywhere. I hope when you're done with class, you say "that was awesome, that really energized me and gave me life."
Q: Your 3 favorite jams?
It's getting hot in here- turn it up!
Miami by Will Smith.
Mamasita
Q: Coffee or tea?
Coffee for sure
Q: Your dream vacation?
Small remote island with water, beach and mangoes!
________________________________________________________________________________________________________________
Meet Travis, Real Estate Development Extraordinaire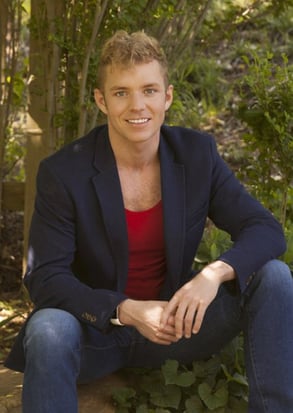 One of the most positive, innovative and driven members of our Team, Travis moved into the Fitness space with a robust background in real estate development and a passion for fitness that changed his life. Travis has an amazing and unique way of getting the job done with exquisite execution all while making the process fun and engaging.
Check out how road runs in rural parts of VA Beach, Lars' Onelife Anywhere Ab workouts and some serious stretching keep Travis on track!
Q: How are you staying fit & healthy?
Long runs, stretching, and Lar's ab routine featured on Onelife Anywhere! I've been taking advantage of the empty roads out in the rural parts of Virginia Beach, getting in 10-15 mile runs in the middle of nowhere. It's been good for my body but also for my mind! I feel so good and at ease when I'm done. Stretching afterwards is essential...but I love to put on a show, sit on the floor, and stretch. Lar's ab routine…well, it's from Lars. My body is dead afterwards.
Q: What inspired you to get into the fitness business?
Growing up, I was an overweight kid: 246 lbs at my heaviest. Plus, I grew up in a small town, so being an overweight kid made me the fat kid. I got tired of being the fat kid, so I turned to fitness. It changed my life. I made fit friends, became a personal trainer, then maintained my fitness and moved into the real estate development business with my family. I later learned of the real estate and construction opportunities within the fitness industry, particularly those with my current Company. It blended two great loves of mine, creating and building, along with staying healthy, living well, and inspiring others to do the same.
A match made from Above.
Q: Coffee or Tea?
I'm a coffee drinker. 2-3 cups a day. But, my colleagues, Linda and Sabiha, are trying to turn me into a tea drinker! Tea is pretty good though, especially with a lil' bit of cream.
Q: Beach or Mountains?
Mountains. I grew up at the beach, so maybe I take advantage of its beauty more than I should. However, to me, I love waking up on a fall day, dew on the grass, overlooking the mountains and seeing the fog sitting low between the peaks, with the autumn sun on the horizon.
❤️ Take me there any day.
Q: Favorite new movies and/or series?
I cannot wait for Yellowstone Season 3. In the meantime, I've gotten into Snowpiercer, the new series on TNT. The movie didn't impress me, yet the idea behind it fascinates me. I feel like they had to cram too many things into the movie, but the Series… they take time to explain things, show the train design and the scientific thought that it would take to make it work. One of the best I've seen in a long time.