As we move into the sunny days of June, with the vision of peace, love and fitness in our future, we continue to share our series of tips and inspiration from our Onelife Summertime FitTeam.
Here's what they've been up to, how they're staying positive and fit, what they're listening to and more!
Linda, Corporate Director of Group Fitness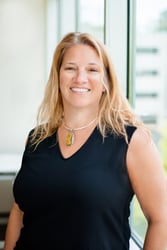 Q: How you're staying fit and healthy?
I've been taking classes from our awesome onelifeanywhere.com on demand platform, as well as classes offered on our Onelife Fitness FB page. I also walk 3-5 miles a day with my dogs and have been doing a ton a yard work! I love being outside, so I've transitioned all of my workouts to my back deck or in my yard.
Q: What inspired you to get into the fitness business?
I have been involved in some sort of fitness activity my entire life. I was a competitive swimmer from the age of 5, and a springboard diver through college. After college, I participated in triathlons (sprint distance) as well as road races. My husband was a Navy pilot for 23 years, so, when we started relocating for his career, I had to make some serious career decisions. I was a practicing architect prior to the time we began moving...but that was just not a mobile career. Then, we had our first child just prior to our first change of station, so I decided to shift back into fitness and started teaching classes and training clients. It was a great decision based on everything happening and I never looked back! I have taught and trained in multiple states as well as overseas, and eventually moved into group fitness management. There is no career that is greater and more rewarding than fitness. We change peoples' lives every single day!
Q: What are you listening to? Favorite bands and music?
I love music! SOOOO many to list – from the likes of Led Zeppelin to Linkin Park to Lizzo to Bassnectar! (Turn it up!)
Q: Favorite new movies and/or series?
Ozark, Dead to Me, Unorthodox
Q: Favorite guilty pleasure?
Ice cream
Q: Favorite healthy noshing?
Haha...Vodka...! Okay, mentally healthy. Seriously, melons are my real answer. Cantaloupe right now is A-MAZING
Q: What's your greatest inspiration right now?
I've had some time to cook, so I have been inspired by cooking shows and magazines. I've been trying to cook with ingredients that I have not used before, which has definitely spiced things up in the kitchen for me and my family!
________________________________________________________________________________________________________________
Cory, General Manager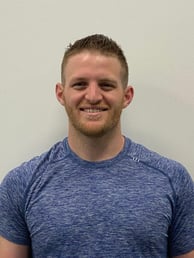 Q: How you're staying fit and healthy?
On days the weather is decent, I run outside a mile or 2 and then do a ton of body weight exercises in the garage,such as pull ups, crunches, push ups, and things like that!
Q: What inspired you to get into the fitness business?
Changing lives every day by pushing and encouraging everyone to be the best they can be. The very best part of that is when you see how happy the member becomes over time! (makes everything worthwhile and truly defines why we do what we do!)
Q: What are you most looking forward to about the clubs re-opening?
I am looking forward to seeing members crush the personal goals they had! Throughout the years of working with our Company, you build relationships and get to know people, their goals and why they joined the club; so seeing them get after those dreams again is great to see.
Q: Beach or Mountains?
I would definitely say beach. There's nothing like hanging out on the beach and hearing the waves crash.
Q: Getaway from home you're most looking forward to?
Anywhere with crystal clear water and white sand beaches!