As the weather gets colder, our cravings get warmer. We start to desire a comforting bowl of warm soup, chili, brownie… chocolate chip cookie…? Anyone else? I know it's not just me! As soon as fall comes upon us there are fun seasonal treats to try all fall and winter long. It's basically 5 months and almost half the year in holiday mode, which is great for our social lives but can be detrimental to our health and fitness goals!
Obviously on the holidays we'll indulge a little more and that's okay. But in between the holidays, on the normal chilly weekend nights and after a long day of work we can take control of our goals and curl up next to a warm mug of low sugar hot cocoa and be as equally comforted as we would have had we had a warm brownie or two.
I trademarked the term "Sips Not Chips" so my clients could stay comforted, relax, and enjoy tastes and flavors without leaning on high calorie snacks to do it for them.
Oftentimes late night snacking is social or mindless. It's something we do out of habit with our spouse in front of the TV, boredom looking to keep our hands busy, or emotional after a long day just looking to destress. Taking snacks away all together can be difficult for a lot of people suddenly causing them to feel empty and fighting to have "will power" strong enough to keep them from reaching for their favorite bag of potato chips. That's why I like to suggest using "sips" or a warm drink like tea or low sugar hot cocoa to replace the habit of snacking instead of stripping it away all together.
I always like to add the disclaimer, if you're snacking out of hunger, you should eat something. Sipping instead of "Chipping" is only meant to be used when you're looking to mindlessly or emotionally snack.
This Healthy Hot Cocoa and Turmeric Milk are the perfect places to start this winter!
To stay on track with your goals I like to use a low calorie milk like unsweetened almond milk and a sugar substitute like Monkfruit or Swerve. Because both recipes call for such a small amount of sugar, any granulated or liquid sweetener would work and shouldn't take you off course of your goals. The idea behind "sips" instead of "chips" is a homemade, low sugar drink will almost always be lower in calories than mindlessly eating a whole bag of chips while watching your favorite TV show. The sips will last just as long, keep your hands busy, and be just as comforting if not more so!
Which one will you try first?!
Healthy Hot Cocoa
Ingredients:
8oz Milk of Choice (for low calorie use unsweetened Almond Milk)
2 tbsp Cocoa Powder (unsweetened)
1-2 tsp Granulated Sugar of Choice (Monk fruit powder or Swerve for sugar free)
Directions:
Heat milk over the stove or in the microwave until it simmers.
Add milk, cocoa powder, and granulated sugar and or stir until incorporated
Pour into your favorite mug, curl up on the couch in your coziest socks, and serve.
Turmeric Milk:
Ingredients:
12oz Milk of Choice (for low calorie use unsweetened Almond Milk)
1 tsp Ground Turmeric
¼ tsp Ground Ginger
½ tsp Cinnamon
Pinch of Black Pepper (for absorption)
1-2 tsp Honey
Directions:
Combine milk and spices to a saucepan.
Whisk together and heat over the stove until it simmers.
Taste and adjust sweetness levels to taste.
Pour into your favorite mug, curl up on the couch in your favorite blanket, and serve.
Follow me on Instagram @LivingWithLeena for more recipes and health tips!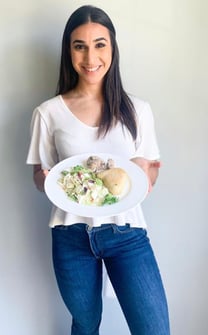 Leena Abed
Certified Nutritionist, Fitness Enthusiast, Onelife Fitness Ambassador