Looking for the perfect snack for game day that won't derail all the new year's progress you've made over the last 30 days? Well, we've got the perfect treat for you!
Packed with vitamins, protein, and a minimal amount of carbs these sweet potato game day bites are a great way to satisfy a big appetite without trading it for a big waist line.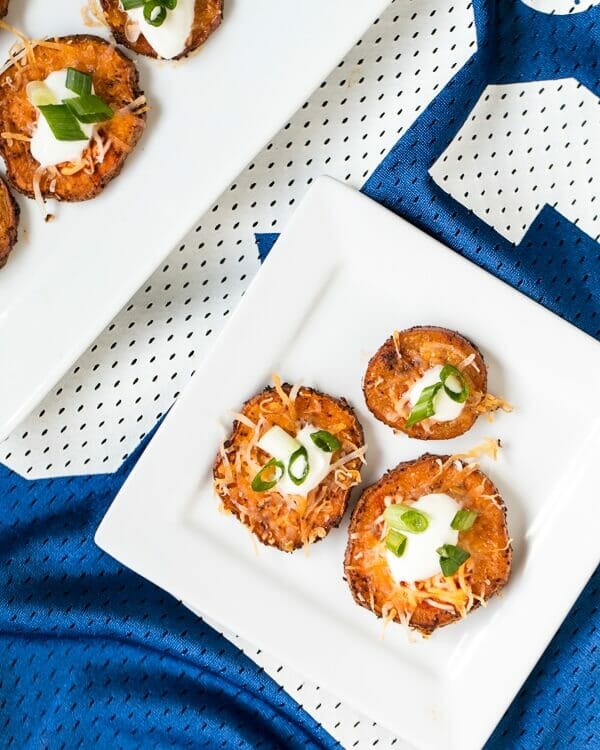 INGREDIENTS
2 pounds sweet potatoes
1 ½ tablespoons olive oil
1 teaspoon garlic powder
1 teaspoon chili powder
1 teaspoon kosher salt
Hot sauce
Monterrey Jack and cheddar shredded cheese (Mexican blend)
3 green onions
INSTRUCTIONS
Preheat the oven to 450°F.
Cut the sweet potatoes into ¼-inch slices. Place the slices in a large bowl, sprinkle with 1 ½ tablespoons olive oil, 1 teaspoon garlic powder, 1 teaspoon chili powder, and 1 teaspoon kosher salt, and stir to thoroughly coat both sides of all slices. Place on a baking sheet lined with parchment paper, taking care that the rounds do not overlap (if possible). Bake 10 minutes on one side, then remove from the oven, flip all rounds, and bake another 10 minutes until soft.
While the potatoes bake, thinly slice the green onions.
When the potatoes are done, remove them from oven and add a dot of hot sauce on each round (or more if desired). Top each round with shredded cheese and wait a few minutes for the cheese to melt (the potatoes will be hot enough at this point to melt the cheese).
To serve, place the rounds on a platter. Add a dollop of sour cream on each round, and garnish with sliced green onions. (Tip: To make the sour cream easier to dollop, mix it in a bowl with a few drops of water to loosen it).
Nutrition Facts
Serves 8
Serving Size: Several bites
Calories Per Serving: 129
% DAILY VALUE
5%Total Fat 3.2g
8%Total Carbohydrate 23.6g
14%Dietary Fiber 3.6g
Sugars 4.9g
4%Protein 2.1g
54%Vitamin A 816.4µg
6%Vitamin C 3.5mg
4%Calcium 39.5mg
4%Iron 0.8mg
0%Vitamin D 0µg
7%Magnesium 29.9mg
12%Potassium 404.5mg
13%Vitamin B6 0.3mg
0%Vitamin B12 0µg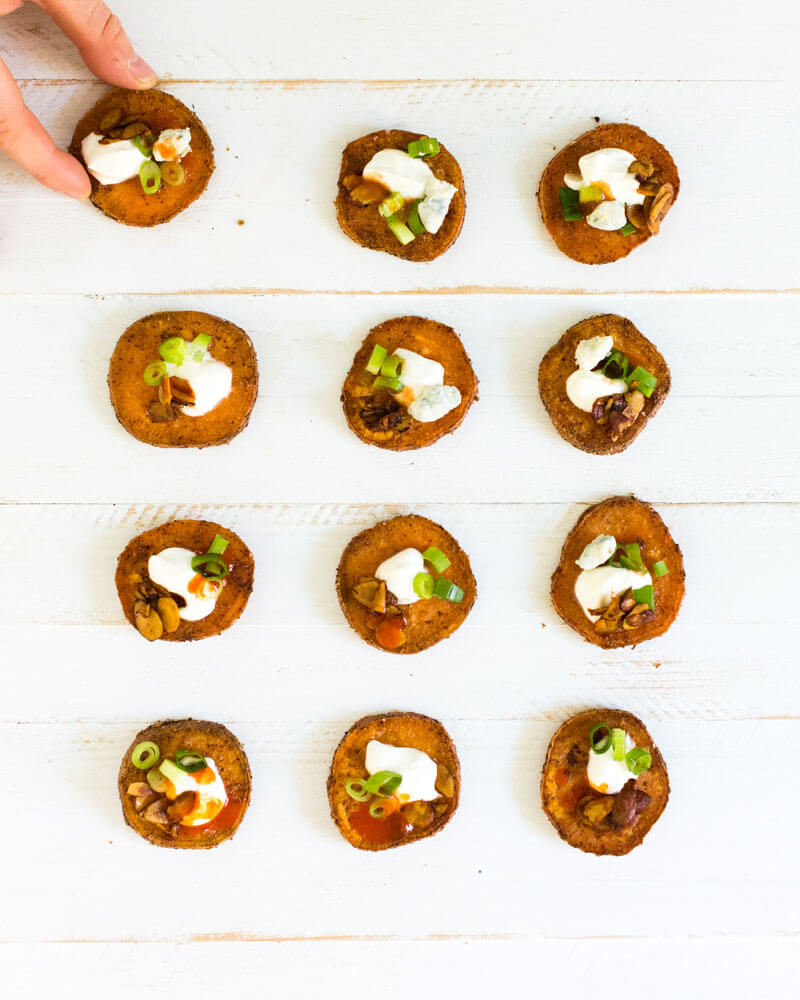 No matter who you're rooting for in tomorrow's game, if you make these sweet and savory treat for the party, rest assured, all your guests will be rooting for you!