Set in a fun, motivating group setting, Z4 is designed to help you burn 500-1,000 calories per session, with the ultimate goal of achieving the "afterburn effect" that will keep melting fat up to 36 hours later. Scroll below to learn more about the Zone4 Coaches that are heating up our clubs with their members!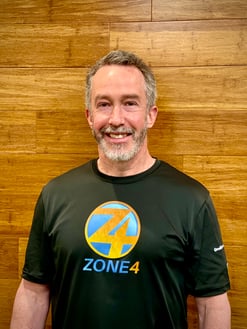 Chris Godesky-Ballston
Chris started in the fitness industry about 25 years ago in Garden City, South Carolina. His career began at Grand Strand Fitness & Racket. After he got married and sought better opportunities, he and his wife found themselves relocating to the DMV. Chris enjoys a variety of activities including; cycling, paddle boarding, running, racquetball, and golf. When Chris is not running, jumping or spinning he likes to fill in his gaps of time with fostering kittens from Home Alone Feline Rescue.
His favorite part about health & fitness encompass the ability to able to do anything he wants. Chris loves that fitness gives him the capacity to do any activity he wants and feel good about it. Seeing the change emotionally, physically, and mentally in his clients keep him motivated to keep the energy high- especially when they tell him how Zone4 has made their quality of life improve.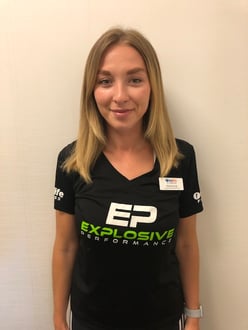 Marlene Lee-Brambleton
Marlene has always had a passion for sports starting as soon as she could walk. With 10 years of ballet experience, she has taught youth, adults, and worked with Dickinson College Football. Her athletic career included track & field, soccer, basketball and tennis, which made her well rounded in her everyday life and overall athletic ability.
After an injury, Marlene took time off from sports found her groove back in the gym. Daily exercise became an outlet for the stressors at home, in school and at work, sparking her passion for fitness and health. After moving from Pennsylvania and settling in Ashburn, she joined a boxing program for a year and fell in love with the way it made her more confident and controlled in her movements both in and out of the gym. After healing and completing rehab for her injury, everything clicked and it felt like the right time to get certified and begin helping others.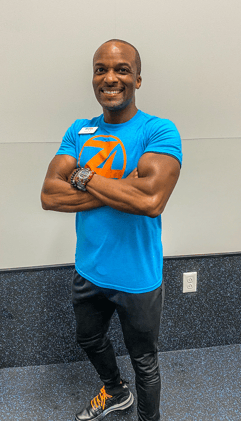 Anthony Hill- Chesapeake Square
With 15 years of coaching in the fitness industry, Anthony is intrigued with anatomy and physiology. He is equally and inspired and motivated by helping people achieve their fitness goals for long term health.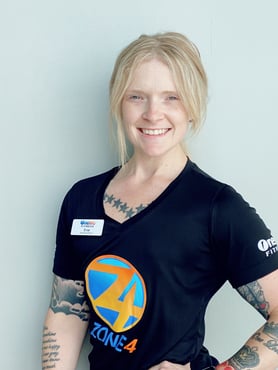 Erica Noggle- Greenbrier
As a breast cancer survivor, Erica is a true advocate for optimal health and well-being through physical fitness. Through Zone4, she creates a safe place for others who are seeking to hold themselves accountable to their, "why".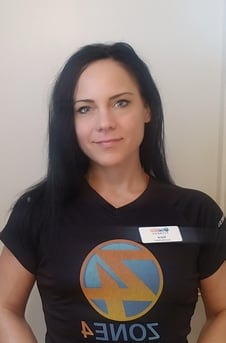 Maria Byrd - Newport News City Center
Maria's passion for training started from her own transformation when she hired a trainer to make her own lifestyle change. Through that change she found her calling and now she finds herself in her true element by helping others achieve their goals as well.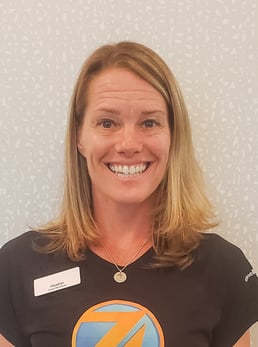 Heather Shawver-North Frederick
Heather is an ISSA certified personal trainer and Zone 4 coach. I specialize in one-on-one training as well as group HIIT workouts. I love to help people realize their potential and reach it! I love adventure, outdoor activities, reading and motivating others to believe in themselves!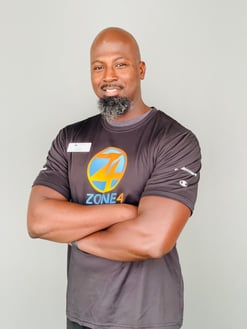 Brock Crawford- Redmill
NASM certified with a BS in Psychology, Navy Veteran Brock Crawford loves teaching Zone4 because of the diversity of training it offers through various exercises for people seeking a strong and healthy lifestyle.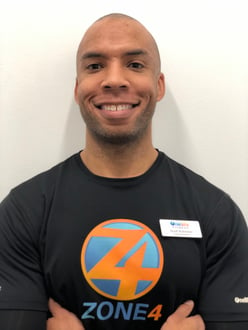 Scott Robinson-Rockville
Scott's father introduced him to strength training at 13. As an allstate and all-American athlete in high school, Scott was ranked the #1 wide receiver in New Jersey at Hillsborough High School as a senior. Scott earned scholarship offers from schools all over the country and eventually ended up at University of Virginia on a full scholarship participating in both football and track and field. At UVA, Scott fell in love with exercise science earning his bachelors and masters degrees. He has been working in the fitness industry doing small group training for Onelife Fitness since 2007. He prides himself on how much he cares for his clients and how long they choose to stick with him. He creates a motivating and fun atmosphere helping people of all ages.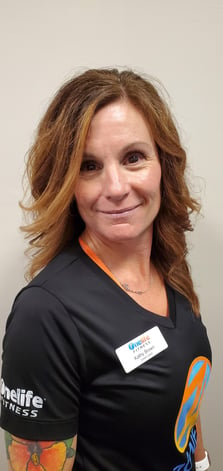 Kathy Brown-Stafford
Kathy Brown has been with Onelife Fitness for over 2 years and her specialities our strength and circuit training and toning, along with Zone4 Small Group Training. She is a NASM Certified Personal Trainer, Red Cross Adult and Infant CPR, AED and First Aid Certified.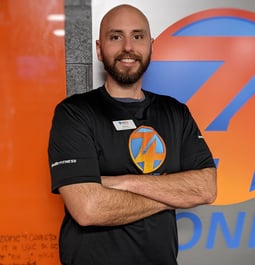 Mat Zanfini- Va Beach Blvd.
Mat is extremely passionate about fitness and loves that, through Zone4 training, he can share that passions with others.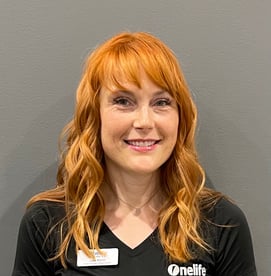 Julie Keller-Valley Mall
Julie started with Onelife Fitness as a NFPT certified Personal Trainer and Barre Instructor in March 2019. Since then, she has been promoted to the Z4 Director and is our Senior Assistant Fitness Director as well! She also has a USA Weightlifting Level 1 certification and is working toward her NASM Corrective Exercise Specialist certification. Julie has a background in high intensity training and was both a high school cheerleading and track and field coach.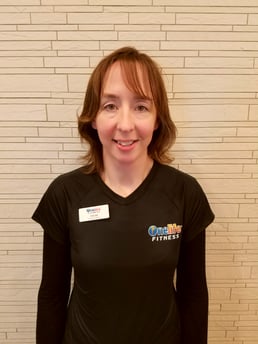 Denise Rummler-Woodbridge
Denise started working at Onelife Fitness in 1999 as an intern while completing her bachelor's degree in Exercise Science from Old Dominion University. In High School she played a variety of different sports one of which is Crew. She enjoyed rowing so much that she continued it into college and decided to ger her degree in Exercise Science. After graduating college, she worked for a number of years at Inova Physical Therapy Center assisting Physical Therapist and patients achieve their rehabilitation goals. Denise enjoys cycling, running, weight training and has completed in a couple of triathlons and a century bike ride. She loves to motivate and inspire her clients to achieve their fitness goals.
Ready to have a blast and feel the burn?!? Talk to your club's front dest staff about signing up for Zone4 Group Training Today!