30 Minute Express Workout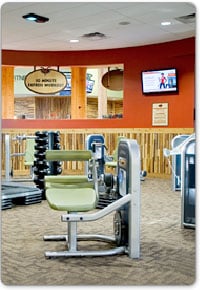 TOP TEN REASONS WHY YOU SHOULD 'EXPRESS' YOUR WORKOUT AT ONELIFE FITNESS!

Redefine yourself with the 30 Minute Express Workout. This 30 minutes of weight training and cardiovascular exercise strengthens all your major muscle groups and improves your cardiovascular endurance. With simple athletic movements, the 30 Minute Express Workout is for both men and women of all fitness levels, and is quick and easy for your on the go schedule.


Helps build bone strength. Weight training exercises significantly improve bone mineral density, thus reducing the risk of osteoporosis.
Helps improve cardiovascular function by strengthening the heart and lungs.
Tightens and tones muscles.
Simple to learn and simple to do.
A convenient way to boost fat loss.
Increases muscular strength and endurance, and prevents muscle loss.
Improves cholesterol. Studies confirm that a combination of weight training and cardiovascular training will improve cholesterol levels.
Can help lower your blood pressure. Combining weight training with cardiovascular training is a very effective way to reduce blood pressure.
Combines strength training with cardiovascular training.
Can be done on your lunch hour or at any time for a change of routine.